Hours from Sydney to San Jose: 15
Days at the con: 3
Servings of caffeine: averaging 4/day
Buttons handed out: 117
Cards handed out: 62
Flyers handed out: 57
Fun had: lots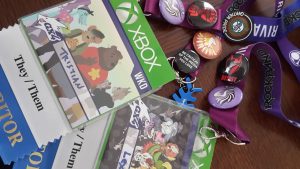 It seems almost hard to believe but GX4 is over and done. As exhausted as we are, we had a fantastic time. We got to meet a huge range of people, see a couple of talks, and do some shopping to support other indie developers. I only wish there were more of me so I could have seen more of the con!
Having been to a few other conferences, some more commercial and some more industry focussed, GX is still very much our favourite. Everyone is respectful, friendly, and so happy to be there – there's nothing quite like the way people light up when they're safe to be themselves. We're extremely grateful that we were able to contribute and be a part of everything, and look forward to coming back again.
In the meantime, the Kickstarter for GXAus 2017 is gearing up, and Tyandae is a sponsor. We'll have a booth here in April next year where we'll be launching the fully voiced, professionally scored – and free – demo of Death of Magic. Even if you can 't make it to Australia you can still chip in a few dollars or just spread the word.