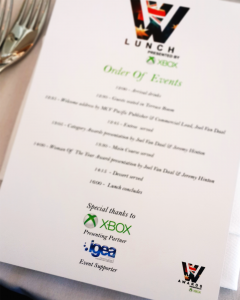 In 2015 MCV Pacific held the inaugural Women in Games Awards, an event that recognises the contributions of women in the Australian and New Zealand Games industry. For women who have paved the way for others, who have helped to promote the industry, who have worked to support the development of local games and who have been inspirations to the industry as a whole, this is a chance to have their work applauded.
This year, thanks to a sponsored ticket from Prescription Pixel, I was lucky enough to attend. The experience was nothing short of awesome.
It's extremely common in gaming environments, from colleges to workplaces, that women will find themselves outnumbered. That was not the case at this event. The room of over a hundred attendees was full of women catching up, talking, sharing news and ideas. Some were local, many were from interstate or overseas, some flying in just for the day. But even for those of us who'd never met there was a strong sense of community, of immediate commonality and support, of being in this together and being there for each other.
I'm extremely grateful that I was able to be there, to meet so many new women and to connect with others that I'd only met online. It's extremely exciting to be a part of an industry that is growing and changing so quickly. It's even more reassuring to know that there is this community of women ready to help and support each other, to encourage each other. In her acceptance speech for the Creative Inspiration award, Kamina Vincent said "I only hope that I can do for others what they have done for me."
It's a good sentiment to live by.